A Guide to Appreciating Wildlife in and Around Banff, Yoho and Jasper National Parks
At Re-CreationWORLD we love the wild places of the world! So, we encourage everyone that travels to these special places to consider themselves stewards for their preservation and to engage responsibly with the creatures whose spaces they are sharing. This is an especially important message for visitors to the Banff, Yoho and Jasper National Parks. Here wildlife is a tourist attraction and the extremely rapid growth of tourism has put stress on them and their habitat, leading to increasing negative human-wildlife encounters. We offer this guide to safe, respectful and beyond-your-wildest-dreams encounters with grizzly bears and other incredible wild wonders in The Canadian Rockies.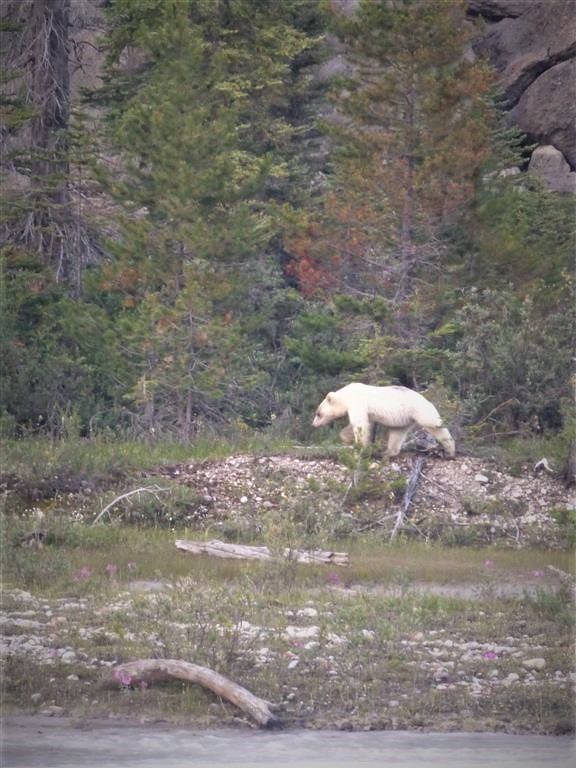 1. Put Wildlife First
The protected wilderness of The Mountain Parks is a safe haven for many species of wild animals. In fact, the United Nations created the Canadian Rocky Mountain Parks World Heritage Site in recognition of the incredible diversity of wildlife found here. The thrilling experience of being able to see and photograph these animals in their natural environment provides opportunities for both positive and negative encounters; your actions directly affect their, and your, wellbeing. It is crucial to be respectful and remember it is first and foremost their homes - meaning don't 1) invade their space 2) block their way or 3) feed them. Anything you do that negatively impacts or disturbs them is an offense! The simple guideline - you are too close if you have caused them to move! Parks Canada offers this helpful guide to safe wildlife viewing, which recommends, amongst other things, staying 100m/330ft from bears and 30m/100ft from other large animals.
So, remember, if you are wanting to capture stunning photos, carry a camera with a zoom lens so you can get the perfect shot from a safe and comfortable distance for both you and the wildlife.
2. Keep Them Wild
Excitingly, a wildlife encounter is highly likely along the roadways, especially on the Icefields and Bow Valley Parkways in the spring. Though it is tempting to stop your vehicle (especially when you see others behaving badly) please, realize this is dangerous to you, other drivers and the wildlife. Initially, it stresses the wildlife, but worse, they easily get habituated to human presence especially if introduced to highly addictive human food offerings and lose their fear of traffic. This is a story that usually ends sadly for both the animal and speeding humans when they unexpectedly encounter each other on the road and there is no way to avoid an accident.
3. Take a Walk on the Wild Side
So how can you enjoy the wonderful privilege of spending time observing these charismatic creatures in their natural home without creating conflicts or co-habitation issues that could compromise their wildness? Wildlife sightings and positive encounters require preparation, patience and the magic that comes when you leave your vehicle and walk into the backcountry.
It is important to be informed about how to recreate safely in the wild mountain environment. WildSmart, an initiative of the Biosphere Institute of the Bow Valley, offers programs for visitors to 'live smart' with wildlife and we recommend this resource for anyone planning a hiking/backpacking trip in the Banff and Yoho Parks. Their advice on avoiding negative wildlife encounters, such as "DO NOT WEAR HEADPHONES", and important education page on how to use bear spray, is a must-read before venturing in the backcountry (or even going for a run around the Banff Townsite, for that matter).
The key is to appreciate and mindfully engage with the environment in a way that allows you to peacefully exist without appearing out of place or disruptive. Then, when you least expect it, one of those beyond-your-wildest-dreams moments can happen. The following video captures one of those extraordinary moments. It was taken at a hike-in campsite in one of the Mountain Parks - the exact locale to remain a secret to protect this beautiful bear's wild innocence, territory and life. The family was relaxing and enjoying the beautiful setting - kids by the stream and adults at the campsite - when a young, extremely rare and elusive white grizzly wandered by. Who knew such a creature existed?! And no, it is not a polar bear nor a Kermode. Park Rangers had heard reports of a mysterious white bear but had not actually had a confirmed sighting until this was taken.


4. Discover the Wild with an Expert Guide
For those who are not inclined to venture backcountry for an extended stay, but want to responsibly discover the Parks' wild wonders, we recommend signing up for a small group tour with an expert in the natural history of the area and a steward of the land and mountain ecosystem. What could be better than having a guide whose ancestors have lived on the land and in harmony with the wild creatures? The Rocky Mountains are home and a passion for Jasper Tour Company Owner Joe Urie, who continues a guiding heritage that dates back to 1860. His intimate and low impact tours connect guests with each other and the natural world. Depending on the season and time of day (dawn or dusk is when the animals are most visible) you can expect to encounter deer, moose, elk, black and grizzly bears, wolves, marmots, pikas and eagles.


5. Befriend a Bear
The Kicking Horse Grizzly Bear Refuge is located just west of Yoho National Park on a mountainside overlooking Golden B.C. It is open every day from late May to late September. Grizzlies are very sensitive to human activity and are increasingly threatened by human encroachment and loss of habitat. The Grizzly Bear Refuge seeks to educate the public and give them an appreciation for the importance of these majestic animals. The hope is that this will raise awareness such that they and their wild places are respected and protected.
Interpretive Tours provide an extraordinary opportunity to observe Boo, the resident Grizzly Bear. Boo was orphaned when his mother was shot by a poacher and the 20-acre refuge enclosure, the largest in the world, was built as his home and for his protection. Each tour is different as you will be following Boo's lead as he roams and interacts with his natural habitat. The 10 am tour is recommended as this is Boo's most active time and provides the best chance to see him up close.


6. Walk with Wolves
There are two wonderful wolf sanctuaries in the vicinity of Banff and Yoho National Parks offering responsible and educational close encounters with this mysterious and often misunderstood creature. Both promote wolf conservation and are on a mission to educate the public on the important role wolves play in maintaining a healthy ecosystem. West of the Parks, close to the Grizzly Bear Refuge, is Northern Lights Wolf Centre. Why not plan a day trip to explore the area, visit Boo, lunch at the top of his mountain and then walk with the wolves? East of Banff and the Rocky Mountains is Yamnuska Wolfdog Sanctuary. A day trip this direction from Banff could include a visit to the Sanctuary, a hike in Kananaskis and just for fun and to stay with the theme, a tour and tasting at Canmore's Wildlife Distillery.
If you are planning on staying in or near the National Parks we recommend that you pick a place that is off the tourist path and one that is in their way helping to protect the wild environment. Some of our favourites are listed in 8 Unbelievable Lodges in the Banff Mountains and in 7 Stunning Rocky Mountain Stays in Yoho and Kootenay. The great thing about these lodges is that at most of them you will be able to continue your responsible wildlife viewing right from their doorstep.