The Wild Pacific Coast isn't the best-kept secret - it's a popular holiday destination for Canadians looking for a rejuvenating retreat - but it doesn't receive anywhere near the same amount of international attention as other Western Canadian destinations, such as Banff National Park or Vancouver. However, if you can make the extra few hours journey to arrive at this isolated coastline, the memories will stay with you for a lifetime.
Situated on Vancouver Island, The Wild Pacific Coast has two major towns: Tofino, the surfing capital of Canada, and Ucluelet, it's smaller sister. Both are also known for their whale watching tours in the summer and storm-watching season in the winter (a clever tourism strategy to attract visitors during the quiet months). Most of this peninsula is part of the Pacific Rim National Park, founded in 1970. This that time spent here, as always, should be done with respect and a 'leave only footprints' approach (translation: don't take the seashells home!). The area has a food and adventure culture much bigger than its modest size, that has branded the area as a mecca for outdoor activity and will keep you busy exploring for days! It's a must-see destination for responsible and sustainable travellers.
"Our history is one of protecting and holding ourselves accountable to the surrounding natural and cultural environment. We love to share this special place with like-minded people - those who strive to respect it as we do."
- Tofino Tourism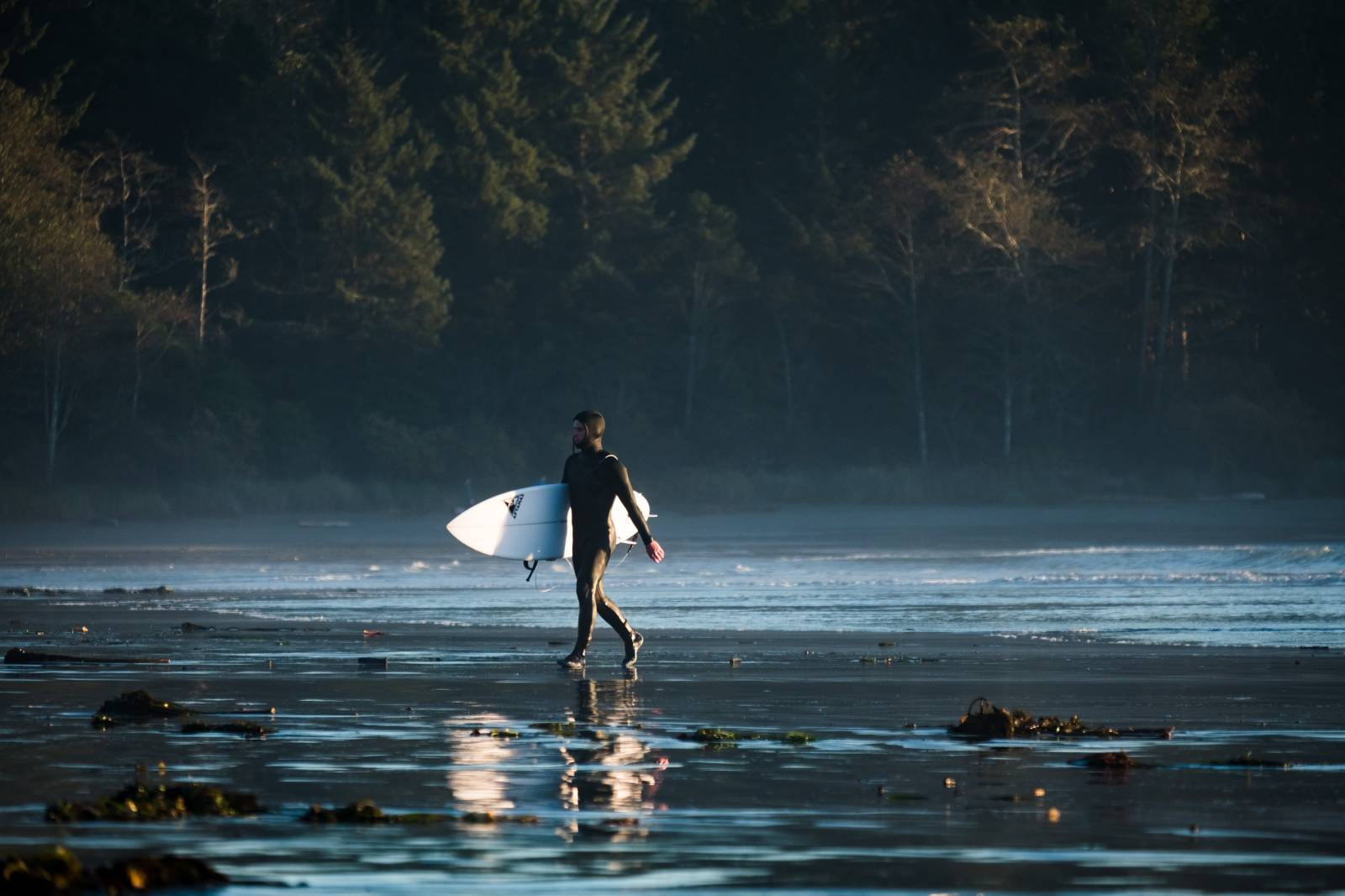 DAY 1
TRAVEL TO TOFINO
Morning:
To get to Tofino, you have a few different options. The easiest way is to drive from Victoria, the capital of British Columbia and largest city on Vancouver Island (accessible by ferry from Vancouver and Seattle), taking roughly 4-5 hours, depending on the weather and roadworks. The journey is actually one of the unexpected highlights of this trip - the drive along the Pacific Rim Highway is certainly long and windy, but it's studded with commanding views of cedar groves, rainforest and dramatic seawater inlets.
Tofino does have an airport receiving flights from Vancouver, but it's very dependent on good weather (not something Tofino is known for). Two people we met on the trip had their flight delayed by bad weather and missed 36 hrs of their planned 4-days. However, if you want to avoid the ferry ride and long drive it is an option. Keep in mind that if you wish to stay and explore outside of town, you will need to arrange for a rental car, preferably before you arrive, so you know it will be waiting for you.
Afternoon:
Once you arrive in Tofino, have a wander around the town and get your bearings. You'll soon realize how compact it is, with only 2,000 residents and about a 10-minute walk from coast to coast. Consider booking any tours you want to do in the next few days as soon as you arrive. All the tour companies are in the centre of town.
If you've made good travel time, see if you can head out on a late afternoon whale watching tour with Jamie's Whaling Station. the oldest company in Tofino.
Evening:
Head to one of the many beaches on the west coast of the peninsula for a jaw-dropping sunset with Tonquin, Lennard and Wickaninnish islands as a backdrop. We recommend the quiet of Mackenzie Beach for a bit of romance or the wide sands of Long Beach to catch the surfers hunting the final bits of daylight.
Afterwards, stop into the tasting room of Tofino Brewing Company, a small-batch microbrewery, to try a selection of their yummy local beers. If you fancy food as well, Tofino Brewing Company beer is also served on the lovely heated terrace at the Shed restaurant, in Tofino - they've even teamed up to create their own signature brew!
DAY 2
Morning:
Grab some breakfast pastries (plural! It's a vacation!) from Common Loaf Bakeshop and take a morning stroll along the Tonquin Trail. The trail is 3 kilometres of gravel path, plus 800 metres of boardwalk. It wanders through cedar rainforest passing three beaches and bays with numerous viewpoints to take in the rugged coastline along the way. Spend as long as you want beachcombing, paddling and spotting dolphins from the shore.
Afternoon:
If you eat only one thing whilst in Tofino, it needs to be from the most famous taco spot in Canada: Tacofino! Starting as a food truck in the village, they have expanded to another location in Victoria and seven more in Vancouver. On a nice day, the queues here are extensive but carry a relaxed, party atmosphere. To be honest, there's a wait, even in the rain, but I promise you, it's worth it! We went here twice during our stay and I've been dreaming about it ever since. Ironically, the tacos weren't the star of the show here: try the buffalo chicken burrito for the ultimate foodie experience, washed down with a refreshing pink lemonade!
Once you've had your fill, it's time to get in that sea (obviously after waiting for your food to go down)! There are so many activities to choose from. One unique activity we recommend is the dugout canoe paddle tours run by T'ashii Paddle School. They use this thousand-year-old mode of transportation to help guests learn about local indigenous First Nations history and rich culture.
Otherwise, it's not a trip to Tofino without trying your hand at surfing. Book in a surf lesson with any of the fantastic surf companies - they will all serve you well and there's not much difference in price. We recommend Surf Sister. Don't worry, the wetsuits keep you warmer than you'd think.
Evening
Warm up from the sea and grab a seat by the multiple open fires in the Shelter restaurant. They have views across the Clayoquot Sound on the east coast of the peninsula, giving you a completely different experience of the setting sun. Enjoy the locally-caught seafood, fresh herbs from their garden and free-range produce from Vancouver Island farms.
DAY 3
Morning:
There's no time for dining out this morning, you'll be heading out on the sea again for a morning Kayak Tour with Ocean Outfitters. The four-hour tour (including the boat-ride to their pontoon) is the best way to immerse yourself in the incredible UNESCO biosphere of the Clayoquot Sound. The Clayoquot Sound is a body of water with multiple inlets and islands that were never ceded and are still the territory of the Nuu-chah-nulth First Nations and have been the centre of many logging protests. Ocean Outfitters works tirelessly in their conservation efforts to protect and sustain the biodiversity and health of Clayoquot Sound. - something they go into lots of detail about during your trip. The expert guides are an inexhaustible fountain of knowledge about the area, the habitat and the unique flora and fauna.
If you'd rather have a more relaxed morning, many local tour operators offer trips to naturally warm waters of Hot Springs Cove, located in Maquinna Provincial Park on the north end of Clayoquot Sound. Although not guaranteed, there is always a possibility of seeing whales and other wildlife as access to the natural hot pools is by boat and a 1.5 Km rainforest walk.
Afternoon:
Either make a trip to the Tofino Botanical Gardens or, if you're not tired of ocean experiences yet, make your way to Cougar Annie's Gardens, 30km off the Tofino coast. Learn about this incredible pioneering woman and her homestead at one of BC's oldest rural gardens. Interested in visiting? Contact the Boat Basin Foundation directly to organize floatplane access to the Gardens from Tofino, and even an overnight stay.
Evening:
If you're not already staying at this award-winning luxury hotel, be sure to book dinner at the Wickaninnish Inn's, Pointe Restaurant with its spectacular 240-degree view of the Pacific Ocean. Its innovative menu features local BC sourced seafood, game and farm-fresh, organic produce. They are out of town, so if you don't fancy driving, consider booking their shuttle service. The Wolf and Fog, located in the centre of town is another great restaurant for experiencing local life and seafood if you prefer a more relaxed atmosphere.
DAY 4
HEADING TO UCLULET
Morning:
Before you head to Ucluelet, get your morning coffee fix at Tofino Coffee Company, a small roastery sourcing ethically grown and organic beans. They also supply beans for many of the local businesses. Why not pick up some beans as a souvenir as well?
As you drive along the coast road, we recommend taking the short 5km hike to the site of the Royal Canadian Air Force Canso 11007 that crashed shortly after takeoff on February 12, 1945, located just south of Radar Hill. The hike is relatively easy, but be warned, it does get very muddy all year round.
Afternoon:
As you arrive in Ucluelet, lovingly nicknamed by the locals as 'Ukee' (pronounced You-Kee), you'll realize it's a much quieter version of its counterpart, Tofino. Grab a light lunch of oysters like you've never experienced them before, from Raven Lady Oyster Forte. The menu hones in on the myth of oysters as an aphrodisiac with "exquisitely seductive" dishes such as oyster curry and smoked oyster blue cheese.
The best way to experience the area is to meander along the Wild Pacific Trail, a paved route split into two main sections, a 2.6km Lighthouse Loop and the Big Beach to Rocky Bluffs trail (5 km one way). Grab a bench and enjoy the lighthouse, spot some whales and learn about the numerous shipwrecks littering the area. There are also free interpretive tours with the trail naturalist, 10 am daily, March through to October. In the winter storm season, if the weather is poor, you can relax and watch the wild seas from the comfort of the Black Rock Ocean Resort Bar.
Evening:
If you're visiting in the summer months, you might be lucky enough to coincide your trip with one of the Big Beach Cinema's community movie screening nights. Otherwise, we recommend a scenic seafood supper or burger at the Floathouse Patio and Grill that, as the name suggests, is permanently floating on the water in the Small Craft Harbour.
DAY 5
HEADING BACK HOME
Morning:
Start the morning by popping into Zoe's Bakery and Cafe for some fresh baked-goods (the cinnamon buns are sublime!) or something savoury to give you the fuel for your adrenaline adventure! Next, book a Zipline Eco-tour of the Kennedy River Watershed - a breathtaking 100-foot canyon hidden by dense rainforest and cut from centuries of flowing white water. West Coast Wild educates participants about the environment and supports the community, with a percentage of the profits going to the Tla-o-qui-aht First Nation.
Afternoon:
It's time to drive back to Victoria along the highway. But first, what's the point in being by the ocean if you can't enjoy some fish and chips? Jiggers Fish and Chips is one of the best ways to enjoy the local catch of the day. Get an early lunch and fuel up for the drive back to Victoria.
On your way back along the Pacific Rim Highway, be sure to visit the magnificent and endangered remnant of an ancient Douglas fir ecosystem and giant red cedars at Cathedral Grove, quite literally off the side of the road (people park on the shoulders of the highway). There are a number of loops to choose from, ranging from 10 - 30 minutes long. It's very wet here (it's a rainforest after all!) so make sure you have appropriate footwear.
If you have any other recommendations for enjoying Vancouver Island's Wild Pacific Coast? Please let us know!