It's luxurious and safe - it's just that you might share your salad with an elephant, dance like a giraffe or share the depths of your soul with a leopard!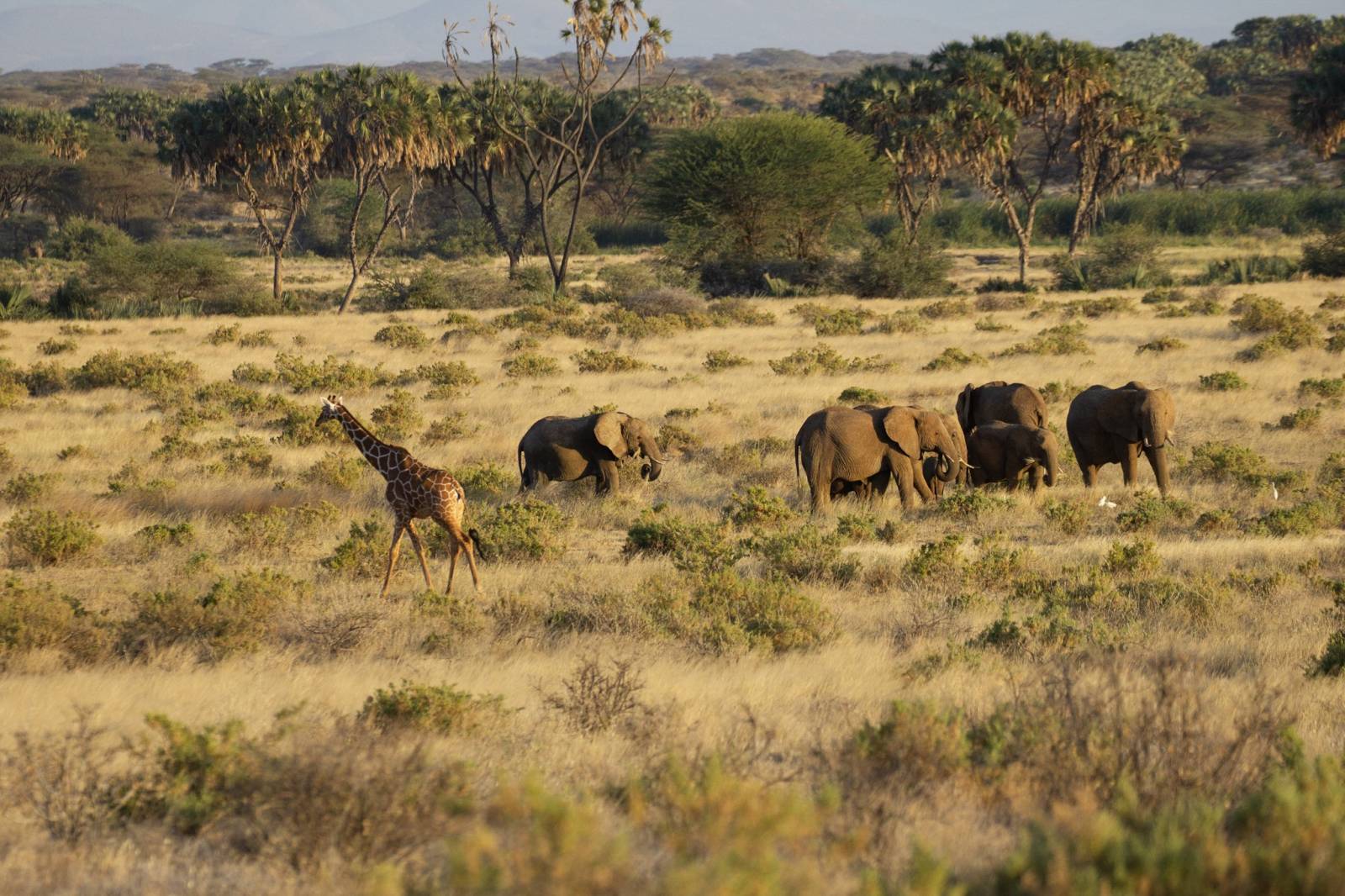 Safari is a Swahili word meaning "journey" and Samburu National Reserve is a magnificent and magical place for a soul-stirring African Safari. One of Kenya's smallest, this remote and unique game reserve is hidden far off the beaten path, north of snow-capped Mt. Kenya. Very different in nature from other regularly visited African safari sites, it provides its own special experience. The starkness of this arid, dusty, semi-desert is stunning. It is flanked and sustained by the Ewaso Nyiro River with humankind and wildlife congregating in close proximity in the green riverine forest along the banks of this fragile lifeline. Life here is raw and real. A safari will firmly place you in its midst. While at other safari sites one seems to be observing a big beautiful picture (also well worth also experiencing) at Samburu you become part of life... And the real journey begins.
First, let me provide some perspective. The accommodation is luxurious, the hospitality warm and inviting and the guides helpful and particularly knowledgeable about the Samburu ecosystem and local customs - they proudly wear their traditional attire. Your safety and well being are paramount. It's just that you might have to share your salad with an elephant, dance like a giraffe or share the depths of your soul with a leopard...
My journey to Samburu was part of an expedition and photography course organized by Great Escape Publishing and hosted by renown humanitarian photographers, Joe and Kathy Sindorf and Topguides Safaris Founder, Victor Nyakiriga.
We flew in on Safarilink to avoid the 6+ hour bone-jarring road trip. Our home in Samburu was the beautifully tented Elephant Bedroom Camp, where the wildlife is free to roam - meaning you need to be escorted to your room, zip and lock your tent to keep the monkeys from stealing your stuff, appreciate the baboons joining in while you are meditating in your front deck plunge pool and quietly leave the table if the elephants cross the river to check out the vegan lunch selections.
There were morning and late afternoon game drives allowing us to see and photograph all of the 'Samburu Special Five' - Beisa Oryx, Grevy's Zebra, Gerenuk, Reticulated Giraffe and Somali Ostrich. We enjoyed breakfasts by the river or high on the mountainside and sundowners overlooking the river or sipping gin and tonics around the campfire or in the lounge back at camp.
We had the privilege of visiting the local Samburu Tribe where we were welcomed like family and learned to love life in its simplicity and to dance like giraffes. We admired their artistry and captured portraits of their beauty, captivating presence and vibrant dress.
And we saw glorious stately bulls and cute baby elephants, then more elephants close and afar until someone - I'm sure it wasn't me - was unbelievably heard to say "It's just another elephant".
I'd say that we fully and deeply experienced all the wonder that is Samburu.
But, Oh! It was the big cats, especially the leopards that Samburu is also known for that were the highlight of the trip for me.
My personal safari began in the stillness of the night with a wakeup call of coffee and biscuits delivered to our tent. The plan was to leave in the darkness with the hope that we would spot a mother leopard and her cubs as they ventured out into the world at the break of dawn. We knew the location of her kill - our amazing guide had spotted it hidden in the brush the previous evening.
To everyone's delight and amazement, we found her peacefully and proudly awaiting our arrival. Soon two cubs appeared and for reasons, I'll never understand, mom left them to play and went back to her kill. The inquisitive one decided she wanted to further investigate the new beings in her world. That was when she looked into my eyes and asked: "Who are You?" and I knew the answer had nothing to do with my human persona... Now, I can't shake the feeling that a beautiful blue-eyed leopard cub, hidden far from further contact with humankind knows more about my pure essence than I. But all is good. It is an inspiration to journey on in search of self and it's a certain kind of wonderful that I remember my Mom when I think of the free spirit in that young cat's eyes.
Have you had adventures that made you realize that travel is more than checking the been-there-done-that boxes? Experiences that allowed you to discover more about yourself or touched your soul? We'd love to hear from you.