Prince Edward Island: 5 Days in the Big Red Mud
Tips On How to Prepare for Your Trip to Prince Edward Island (PEI)
Any great trip starts with a great playlist. Download music by Stompin' Tom Connors and Haywire - two famous musical acts from PEI.
If you`ve never read it, pick up a copy of Anne of Green Gables by author Lucy Maud Montgomery or watch the movie and see why people all over the world fell in love with PEI through the eyes of a red-headed girl by the name of Anne with an e.
For the golfers out there, you are going to want to bring your clubs. PEI is home to world-class golf courses: Links at Crowbush Cove, Dundarave, Mill River, Andersons Creek Golf Club and Green Gables just to name a few of the top-rated courses.
Prince Edward Island is the smallest province at about 193km from tip to tip which means you can easily drive around the island to all of the best destinations. To help you with planning your trip, in this blog, we touch on great stops along the way, unique accommodation options and tips to the best beaches.
Enjoy your time playing in the big red mud!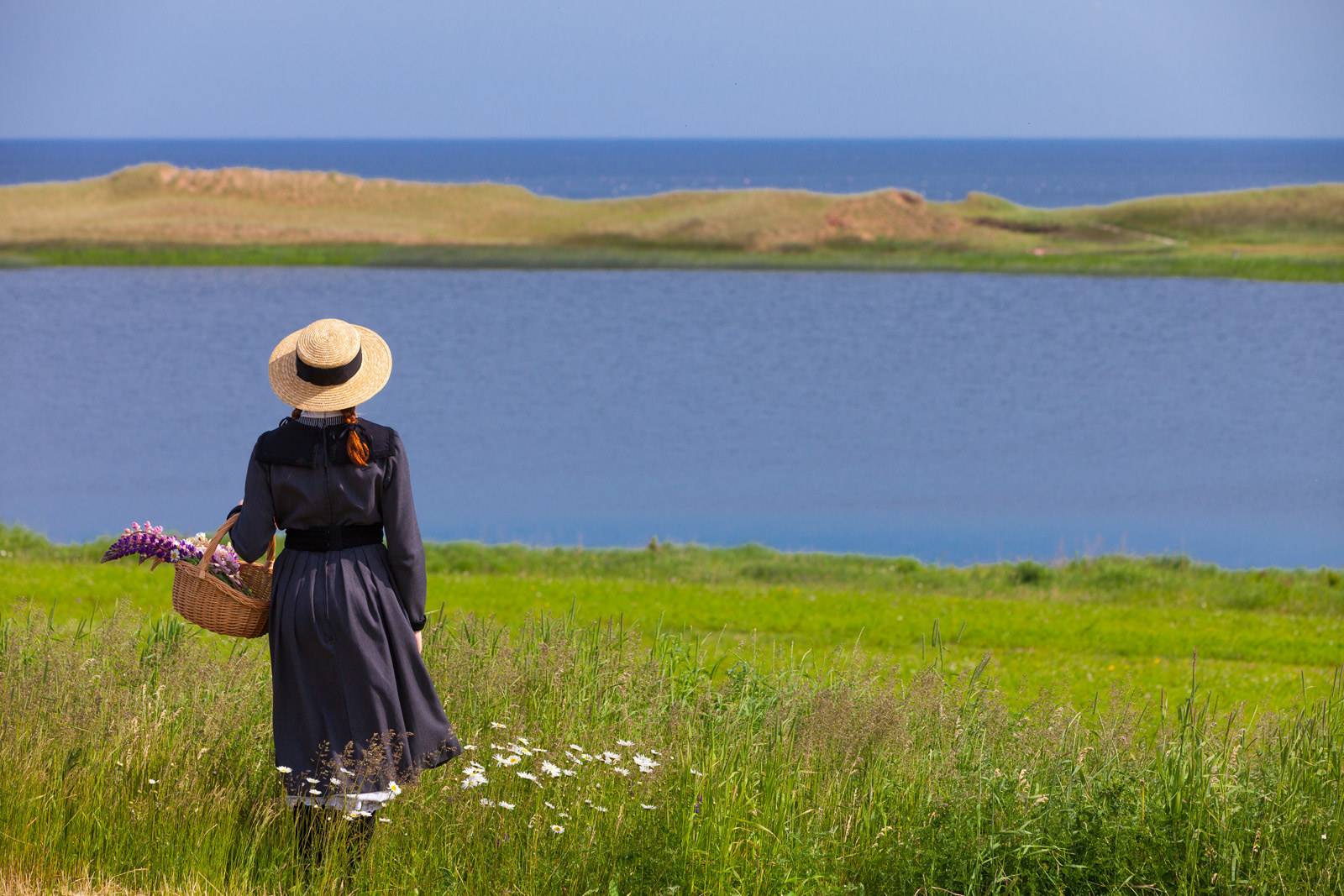 The Confederation Bridge
If you are heading to Prince Edward Island from New Brunswick, you will be crossing the impressive 12.9 km Confederation Bridge, the longest of its kind in icy waterways.
Before you cross the bridge, make sure to stop at the Cape Jourimain Nature Centre located just before the Confederation Bridge. It's a great place to stop for a break and to charge your electric vehicle while you admire the bridge, walk the beach, check out the heritage 19th-century lighthouse and the observation tower. The gift shop uniquely features high-quality treasures from local artists and artisans. If you are looking to stretch your legs a bit more, take one of the three trails at the Cape Jourimain Nature Centre. Proper footwear and long pants recommended as there may be poison ivy in spots along the 17-km trail system. The Nature Centre and these adjoining trails are located within the Cape Jourimain National Wildlife Area which is part of Environment Canada's Protected Areas Network. It was designated for conservation because of the extraordinary variety of ecosystems and the area's shores and marshes that provide refuge to a diversity of waterfowl and shorebirds during migration. It is definitely worth planning time to fully explore and connect with nature in this special environment.

Wood Islands Ferry
If you are heading to Prince Edward Island from Nova Scotia, you can give your gas tank a break and take the 1.5 hour Ferry ride from Pictou, NS to Wood Islands, PE. There is no cost to take the Ferry or the bridge to PEI. You only pay when you leave the island.
Lighthouse Hopping: Wood Islands to Panmure Island Provincial Park
As you arrive on Prince Edward Island by Ferry, stop for a visit at the Wood Islands Lighthouse and Museum and enjoy the views from the 54-foot lighthouse observation tower. Take a tour of the historic keeper's quarters. Learn about the Islands sixty-three lighthouses in the Interpretive Museum.
Head east and follow the coast about 35 minutes to Panmure Island. A long stretch of white sandy beach shouldered by sweeping sand dunes with views of St. Mary's Bay and the Atlantic Ocean make this paradise a must see. Visit Panmure Head Lighthouse and Gift Shop. Built in 1853, Panmure Head Lighthouse is the oldest wooden lighthouse on the Island.
A Romantic Horseback Ride on the Beach at Brudenell Riding Stables
From Panmure Island, take Georgetown Road to Brudenell Riding Stables where you can ride horses through the woods, along the Brudenell River, and on the beach. You will need long pants, a long-sleeved shirt and closed-toe shoes for this local adventure.
Chaisson a Dream - The Fiddling Fisherman Boat Tour, Souris, PE
If you find yourself in Souris, book a tour on board 'Chaisson A Dream' with Captain and renowned multi-instrumentalist and entertainer J.J. Chaisson a.k.a. The Fiddling Fisherman; you will sail out of Souris harbour, drop anchor along PEI's beautiful red cliff coastline, and relax in a picture perfect setting. It is here that you will enjoy a 2-hour gathering of music, dance, and hands-on knowledge of traditional music and the fishing industry of Prince Edward Island. This is the most unique experience of cultural celebration that PEI has to offer!
5 Great Beaches to Explore on Prince Edward Island
Prince Edward Island is surrounded by beautiful sandy beaches, so chances are, if you want to take a swim or soak in the sun, there will be a beach nearby.
Brackley Beach - located 20 minutes from Charlottetown, PE
Brackley Beach is located in Prince Edward Island National Park and is quite possibly the most popular beach with the locals. There is a small Park entry fee to enjoy this beach but once you are there, there are tons of things to see and do.
Make sure to stop by The Dunes Studio Gallery and Cafe. Have lunch in their charming Cafe overlooking the majestic gardens and take a tour of the multiple levels of galleries featuring local art, clothing and gifts.
Basin Head Beach and Provincial Park, Souris, PE
Basin Head Beach is located east of Souris in the Basis Head Provincial Park. The white sands are known as Singing Sands for the squeaking sounds made as you walk on it.
The park is also home to the Basin Head Fisheries Museum and is also a Federal Marine Protected area due to unique flora and fauna only found there.
Cavendish Beach, Cavendish, PE
Located 40 minutes from Charlottetown in Prince Edward Island National Park, Cavendish Beach is by far the most popular beach in PEI. Cavendish was made popular by author Lucy Maud Montgomery's fictional heroine, Anne of Green Gables, and fans from around the world come to visit Green Gables.
Miles of sand dunes and sandstone cliffs make up the vista at this beach that offers something for everyone. If taking in the sun and surf on miles of sandy beach is not your cup of tea, take in the challenging game of golf at Green Gables Golf Course, check out the amusement parks or shop and eat at the Cavendish Boardwalk. Take in a hike at Homestead Trail with views of the shoreline as your backdrop.
Thunder Cove Beach, Darnley, PE
Off the beaten bath - Thunder Cove Beach is home to the iconic Tea Pot Rock. If you want a quiet beach away from the crowds, this is the place for you. Make sure to check the tides first. It`s best to visit during low tide.
Greenwich Beach - located in Greenwich National Park
Just a short 30-minute drive from Brudenell, escape into a truly unique landscape. Experience a sense of awe and serenity as you take in the towering parabolic dune system and pristine white sand beaches at Greenwich. The extensive trail system offers approachable hiking and cycling opportunities, a wheelchair accessible loop, a floating boardwalk, and interpretive panelling.
Historic Downtown Charlottetown
While in Charlottetown, a few tourist stops to consider are the Confederation Centre of the Arts, Peake's Wharf for cool shops and great eats, Victoria Row shopping area and some incredible, unique and authentic restaurants - all within walking distance. You are also very likely to see locals playing live music in any of the places mentioned.
With beautifully preserved historical buildings as the backdrop, Downtown Charlottetown is steeped in heritage and is a history buffs dream location to visit. As Canada's birthplace, museums, art, culture abounds and does not disappoint.
5 Unique Places to Stay on Prince Edward Island
The Great George, Charlottetown, PE
Newly restored, this boutique hotel is conveniently located within Charlottetown's National Historic District. The Great George offers a unique mix of room options from one-bedroom suites to multi-room townhouses and luxury condos.
Dalvay-by-the-Sea, National Historic Site, Dalvey, PE
Built in the late 1890s for Cincinnati oil tycoon Alexander McDonald as a summer vacation home, this property changed many hands after his death and was even owned by infamous rum-runner, Captain Edward Dicks who converted it into a resort in 1931. Now a designated National Historic Site, you literally feel like you are stepping through time when you walk through the doors into the elegant, Victorian foyer with grand staircase.
Make a reservation for lunch, brunch or dinner in the dining room, lounge or take your meal outside on the wrap-around veranda overlooking Dalvay Lake. The lobster roll was one of the best we`ve ever had.
Inn at Bay Fortune - located near Souris, PE
Owned by renowned chef Michael Smith, this incredible, whimsical place is nestled on the Fortune River and the Bay of Fortune one hour east of Charlottetown.
Surround yourself in nature with walking trails, fire pits and 10 acres of organic farm and herb garden. Voted one of Canada's Top 100 Farm-to-Table Restaurants in 2018, treat your palette to an out-of-this-world culinary experience at FireWorks.
The Holman Grand Hotel, Charlottetown, PE
The Holman Grand Hotel has a long list of eco-friendly initiatives and proudly lists them on their website. They are ideally located in the heart of historic downtown Charlottetown and connected to the Confederation Centre of the Arts and the Confederation Court Mall - within a short walk to cultural and historical sites, shopping and entertainment.
West Point Lighthouse and Museum, West Point, PE
Have you ever wanted to live in a lighthouse? Here is your chance. At West Point Lighthouse Inn & Museum, not only do you get to see stunning views of land and sea, you can also stay in the lighthouse.
We hope you enjoyed your tour of Prince Edward Island! On to the next big adventure!