Re-Establishing the Natural Vitality of South Africa's Eastern Cape
Kariega Game Reserve and Safari Lodges is a warm and welcoming family-owned and operated conservation project situated on the stunning coastal Garden Route in South Africa's Eastern Cape. They are committed to providing responsible tourism experiences, community welfare and social upliftment, the sustainable use of resources and restoring the natural balance and beauty of their 10,000-hectare, malaria-free, wilderness reserve. Guest author Elsa Dixon recently visited and was inspired by the depth of Kariega's involvement in the community, their love of the land and their valuable rejuvenation and conservation programs.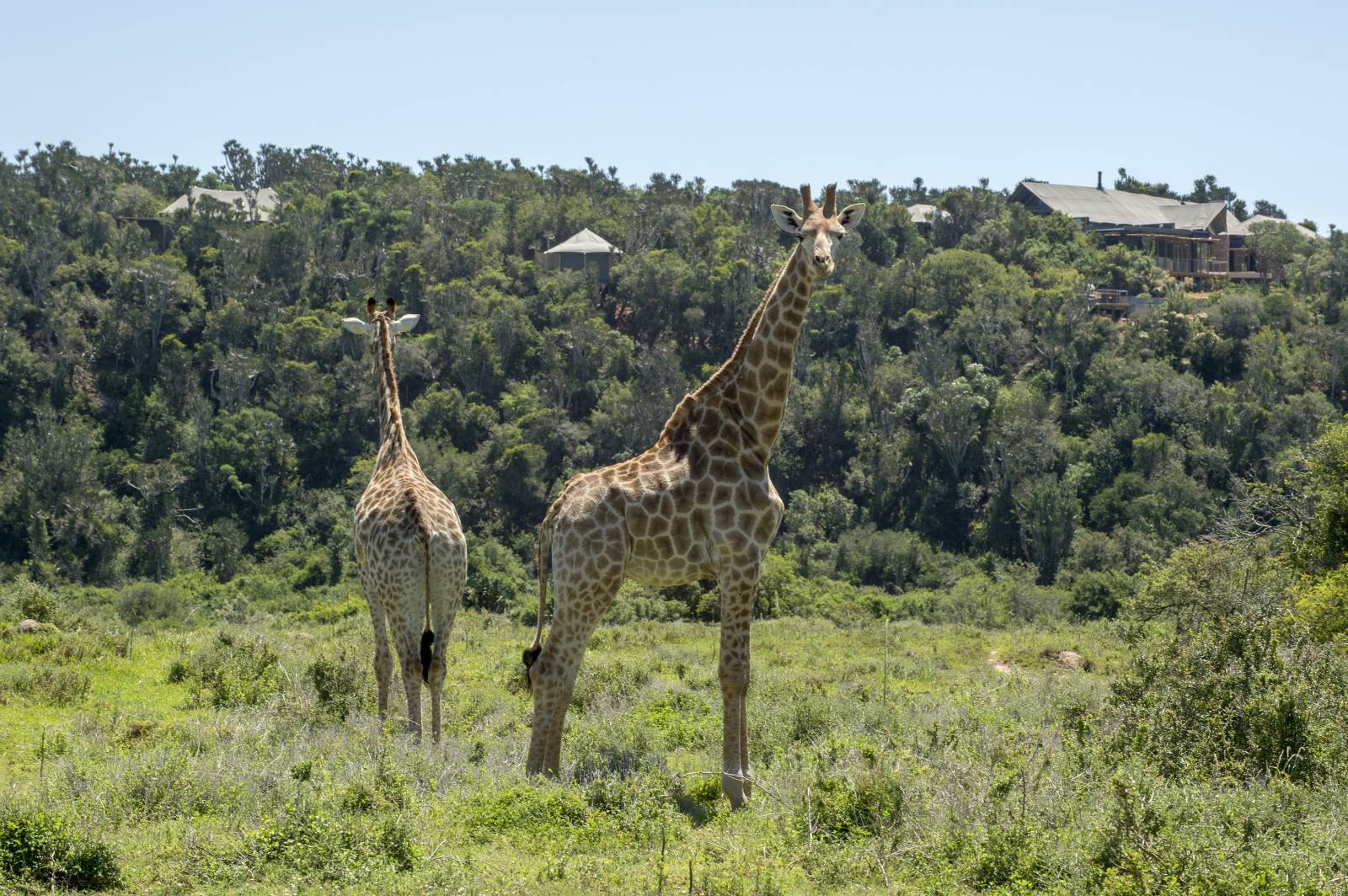 SETTLING IN
My friends and I recently enjoyed a few days of adventure, reflection and pampering in the luxury and contrasting wildness of Settler's Drift, one of Kariega Game Reserve's five beautiful lodges, each with its own unique character and client appeal. Upon our arrival at Kariega Reserve, our private safari guide transferred us by motorboat on the Bushman's River to the lodge. We felt like royalty when staff members greeted us with hot towels for wiping our hands and faces, and delicious cocktails for quenching our thirst.
The five-star 'tented suite' had an opulent open-plan bedroom, full bathroom with a close to nature soaking tub, and living area that transitioned out onto a private viewing deck overlooking the African plains. I could see Cape buffalo in the distance. The next three days we enjoyed the game drives, seeing the Big Five and other animals up close. We relaxed at the spa, and of course, enjoyed the extensive wine cellar, excellent cuisine, and friendly service. We even had a roaring log fire in the bedroom when we returned after a chilly evening drive.
As we experienced and came to know the story of the Reserve and its supporting Foundation, we discovered that Kariega is about much more than an abundance of wildlife, spectacular scenery and impeccable service. We were moved and inspired by the "Spirit of Ubuntu" "Spirt of compassion and humanity for everyone and everything - for we are all connected" and love of the natural world that is the motivation behind their incredible community enhancement and conservation initiatives.
RHINO PROTECTION AND EDUCATION PROGRAMS
Kariega Game Reserve made headlines in 2012 when a young white rhino, Thandi (meaning "love" in Xhosa), survived a brutal attack by poachers who removed her horn by hacking her face. To everyone's surprise and delight, she was found to be pregnant, and, in 2015, Thandi gave birth to a healthy female calf, called Thembi ("hope"). Since then, Thandi has crept into many hearts and has given birth to two male calves - Colin named after the visionary and founder of Kariega, Colin Rushmere and Mthetho ("justice") for he was born the day the poachers who likely harmed his mother were prosecuted. We were fortunate to see Thandi and Mthetho, born April 2019, on a game drive. Her touching story led to the formation of Thandi's Endangered Species Association (TESA), one of the organizations supporting the fight against rhino poaching. Helping Rhinos has also partnered with Kariega to help Thandi and her family and operate an anti-poaching unit on the Reserve.


KARIEGA FOUNDATION - UPLIFTING LOCAL COMMUNITIES
Guests visiting the Kariega Game Reserve pay a levy that supports the Kariega Foundation's commitment to conservation and creating a vibrant life in the local communities. The Foundation has initiated successful programs focusing on education transformation, concern for the elderly, community sports, domestic animal care, and preservation of the region's natural heritage.
WATER PURIFICATION AND REUSABLE BOTTLE PROJECT
In May 2019, Kariega Game Reserve started replacing plastic water bottles with glass bottles. The Reserve is bottling rainwater gathered in tanks on the property and purified on-site. Kariega had been using 17,800 plastic bottles per year. At Settler's Drift, the number has dropped to zero. There is a 50% reduction at the other lodges where only glass bottles are used. When the program is completely operative, there will be no plastic bottles.
While staying there, guests at Kariega Game Reserve experience the organization's sense of purpose, love for the natural world, and their desire to leave a legacy for the coming generations.